Company History:
Rayan Herat Saffron cultivates, processes and produces saffron. We have great saffron product and excellent services to meet your wants. We provide the optimum and customized Saffron made for you. Rayan Herat Saffron began its business operation as Producer and processor of Saffron in 2019 in Herat Afghanistan. Rayan Herat Saffron Company is composed of professional, expertise and well experienced staff. In the field of cultivating, producing, processing, packaging and exporting of saffron to international market. Rayan Herat Saffron Company provide the pure natural and normative saffron.  Rayan Herat Saffron is focusing exclusively in high quality and cost-effective saffron to satisfy national and international customers. Utilizing skilled and experienced employees. Rayan Herat Saffron has been advancing on a tremendous pace.  
---
OUR STRATEGY, MISSION & VISION
Company Strategy: Purpose: To develop and improve the market of saffron with commitment and expertise by producing, processing, and packaging according to international standards and supplying Afghan saffron to international markets with reasonable price.  Our Mission: To continuously improve its world-wide rating among the top cultivating saffron, harvesting, processing, trading to international market and saffron product consulting firms, pioneer of the art quality solutions and provide the best professional service value regardless of project size or profitability Our Vision:  Rayan Herat Saffron is committed to the continuous improvement of its professional services; and endeavors to provide opportunities for highly qualified professionals to apply.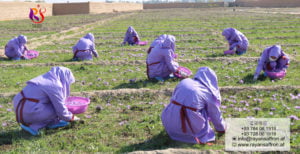 Their know-how towards the development and service of society with the highest levels of professional integrity and commitment. Our keys for development:
Desire for excellence

Build trust and Confidence

Innovation

Transparency

Teamwork
We believe in
Motivation

Collective responsibility and leadership

Professionalism and ethics

---
Who We Are?
Rayan Herat Saffron Producing, Processing and Packing Company is one of the most prominent, largest  manufacturers and exporters of Afghanistan Saffron, dry fruits and spices in the world. We supply the highest quality of Afghanistan Saffron and dry fruits. We're exporter of Afghanistan food products in all varieties and sizes of PREMIUM quality of Saffron, dry fruit and other things in all kinds of packaging. Our food products are nutritious, delicious and safe. Only because our activities all are under the control of international quality control organisations from harvest raw materials to clean, sort, pack, detect metal,fumigate vacuum, inspect and load in containers. Persian Saffron (zaferan) is considered as the best kind of saffron in the worldwide. Rayan Herat Saffron Producing, Processing and Packing Company's purpose is to sell the highest quality Persian saffron in bulk packs or retail packs (your own brand) with the competitive prices. Rayan Herat Saffron Producing, Processing and Packing Company vision is to be the "acknowledged world leader in saffron". To be the retail category leader in saffron.  Rayan Herat Saffron Producing, Processing and Packing Company provides unrivalled excellence in brand based on consumer focus, customer relationships and innovation, underpinned by cost-effective global sourcing of superior fruit. Trust us and we will carry out your orders and we also know that we are judged by performance so we tried to be trusted.
---
WHY US?
Our company is a Afghanistan brand that supplies and provides and exports high quality of various types of Saffron. This company is one of the most famous commercial companies in Afghanistan. The main purpose of us is providing and supplying high quality products, customers' satisfaction and consequently a useful and efficient trade in the world. The company is one of the powerful Afghanistan companies in the field of production, packing and export of Afghanistan Saffron. Our Saffron has good status in between foreign (international) buyers. For different reasons including:
The Saffron has the best taste, smell and excellent quality and color.

%100 natural and pure

Grades A with reasonable price

Harvest removal of best the country areas

Our packing is from 0.5 gr to 1000 gr.

Using equipped and scientific laboratory, modern and beautiful packing line, careful quality control eyes, fast and effective logistic

Export possible to all the worldwide

---
Food Safety Policy Statement
Rayan Herat Saffron Producing, Processing and Packing Company top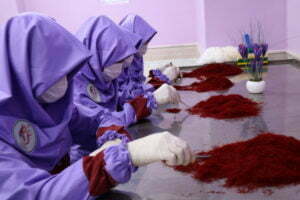 management recognizes the importance of food safety throughout the food supply chain particularly at all stages where Rayan Herat Saffron Producing, Processing and Packing Company performs food sourcing, storage, handling, processing and distribution. Everyone within the organization has the cooperative responsibility of food safety and has a moral obligation to safeguard each other, our customers and the consumers. A positive food safety culture has been nurturing within the organization. Rayan Herat Saffron Producing, Processing and Packing Company is committed to taking all responsible steps and precautions and exercising our due diligence to protect and preserve the human food chain in our society. To ensure best practice Rayan Herat Saffron Producing, Processing and Packing Company has recognized (ISO 9001, 3632, 22000 & HACCP) Food Safety Management System and Afghanistan National standard authority (ANSA)    To achieve our goals, we:
ensure that the business is operating efficiently.

enable the company to remain within the scope of the Afghanistan National standard authority (ANSA) laws.

food production areas must be maintained to a high standard of cleanliness and food handled to ensure 

Apply the professional food technology, science, industry best practice into our context.

Communicate, implement and maintain this policy at all levels of the company.

Provide our personnel with adequate food safety information, training, instructions, tools and equipment to carry out their job in a hygienic and professional manner.

Promote personal hygiene and cleanliness to our staff, contractors, suppliers and visitors.

Develop and strive to continually improve our processes capable of delivery of safe food products through an efficient, effective and suitable food safety management system.

This policy has been approved by Abdul Khaleq Khodadady

Vice President of Rayan Herat Saffron Producing, Processing and Packing Company.

---
For an Inquiry Please Click
Here.